We take our environmental responsibilities very seriously, especially our obligations for the products we put on the market.
The Waste Electrical and Electronic Equipment (WEEE) Directive requires all of us to reduce the amount of untreated WEEE going to landfill. Kenwood are members of the Distributor Takeback Scheme (DTS), our registration number is 300596. The DTS has helped to establish local WEEE collection at Civic Amenity sites to ensure that WEEE is dealt with properly.
All new electrical equipment manufactured and sold by Kenwood can be recycled. You can tell because our products include a 'crossed out wheeled bin symbol' like this: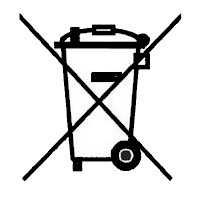 WEEE should not be treated as household waste, instead it should be handed over to the applicable collection point for WEEE. You can find your nearest site on www.recycle-more.co.uk. By ensuring this product is disposed of correctly you will help prevent untreated WEEE going to landfill.
Kenwood are members of REPIC, REPIC is the largest UK WEEE product compliance scheme.